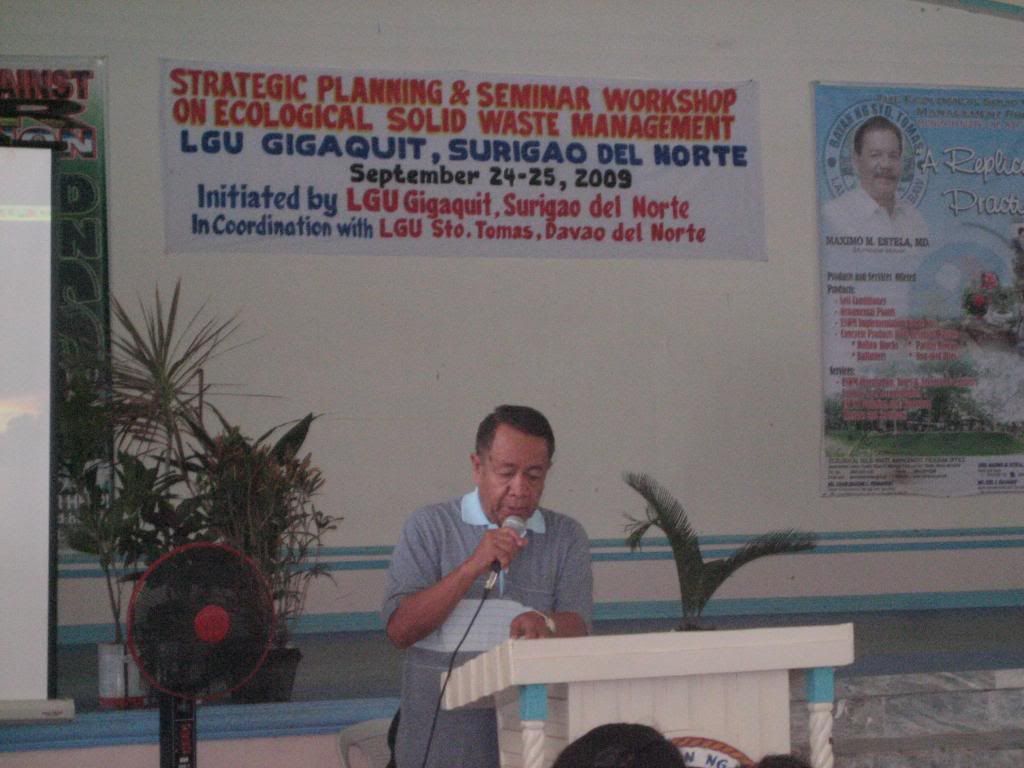 In relation to RA 9003, Hon. Mayor Carlos M. Egay is deeply committed in the implementation of the ecological solid waste management program in our municipality. Significant events and activities were initiated by the Local Government Unit of Gigaquit relevant to the program.
A series of on-site visits were done by members of ESWM board and TWG, Vice-Mayor and members of Sangguniang Bayan, Brgy. Captains and Mayor Egay himself. These sites include the Material Recovery Facility (MRF) of the municipality of Sto. Tomas, Davao del Norte, and the facility of the Surigao del Norte provincial government.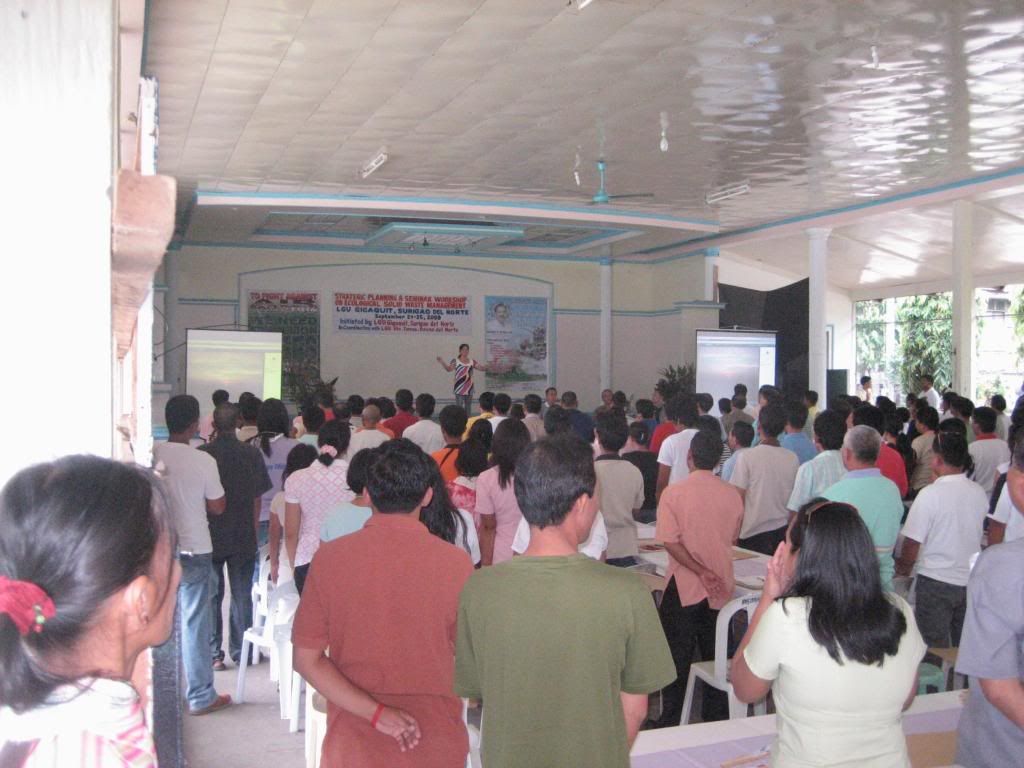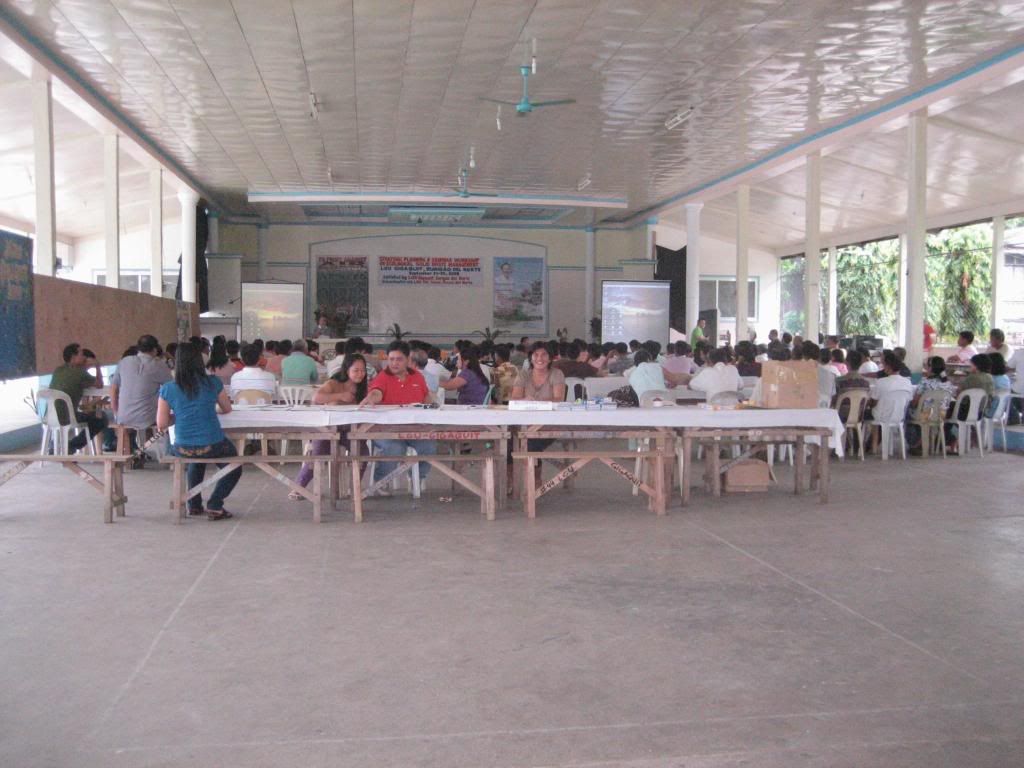 The local government hosted a seminar inviting the Provincial Environment & Monitoring Office for the preparation of the ten-year solid waste management plan of the municipality. The most recent activity was a two-day "Strategic Planning and Seminar Workshop on Solid Waste Management" participated by the members of the board and technical working group of LGU-Gigaquit and key officials of all the thirteen (13) barangays, last September 24-25, 2009 at Gigaquit Multi Purpose Building.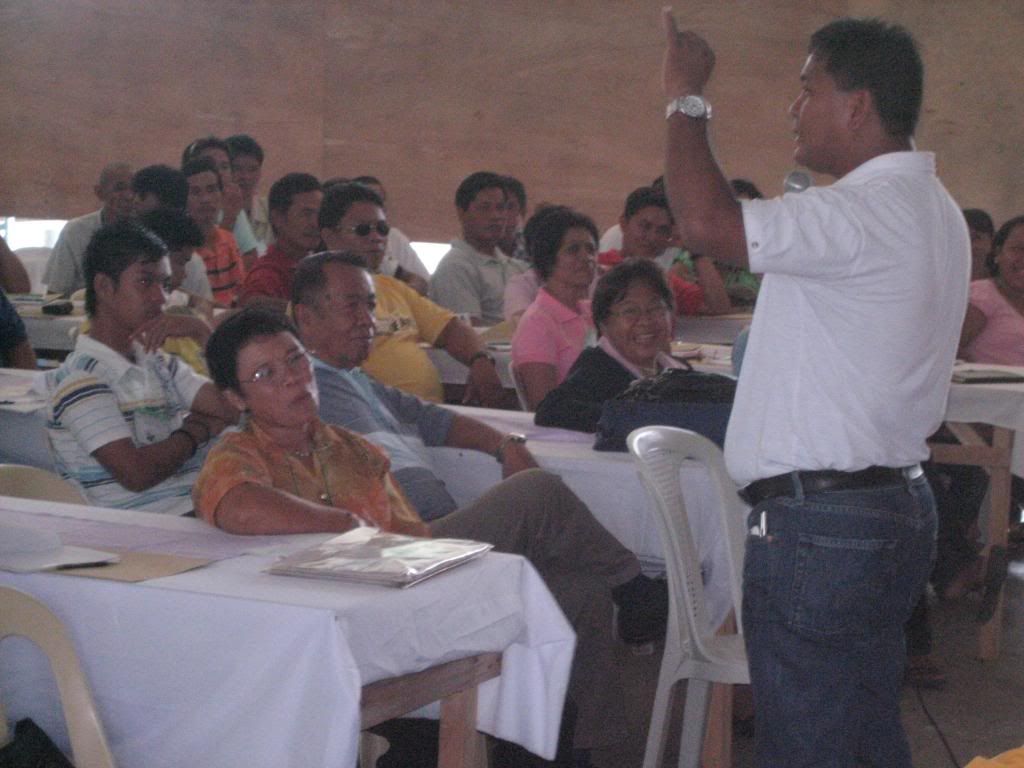 The said training was conducted by a team from LGU of Sto. Tomas headed by their ESWM Specialist, Mr. Charlemagne Fernandez. Every barangay was guided and assisted in the creation of their respective ecological solid waste management program. The highlight of the seminar is the signing of "Pagpanumpa sa Katungdanan" by the members of the Barangay Ecological Solid Waste committees, followed by an oath of sustaining the implementation of their ESWM program. A massive information and education campaign were conducted by the Technical Working Group, in the schools and barangays during assembly. Mr. Fernandez also urged for an inspection of every household of municipal employees to determine whether the segregation of wastes is practiced and what is the availability of compost pit in their respective areas.
To date, the municipal garbage hauling plan is on the stage of initial implementation. And the Material Recovery Facility (MRF) of the municipality is now operational.
Municipal Solid Waste Management Board
Chairperson - Hon. Carlos M.Egay
V-Chairman - Hon. Felixberto Jala
Members
William R. Enario - ENRO-Designate
Hon. Domingo R.Cubelo - Chairman SB Committee on Environment
Hon. Loreto B. Laurena - ABC President
Mr. Rodelio S. Torregosa - MPDO
Engr. Restituto E. Mira Jr. - Mun. Engr.
Mrs. Lucila Virtudazo-Mun - Tresurer
Mrs. Caremncita G. Naldoza - DepEd District Supervisor
Dr. Roland E. Mira - Municipal Health Officer
Mrs. Rosalina A. Sering - DILG MLGOO
Mrs. Elvira A. Egay, Ph.D - NGO Representative
Mr. Hilario T. Go, - Business Sector Rep.
Hon. Eduardo A. Neuda - Brgy. Captain Alambique
Mr. Marcelino S. Verano - Mun. Agriculturist
Mr. Leslie S. Pingal - Consultant on Tourism